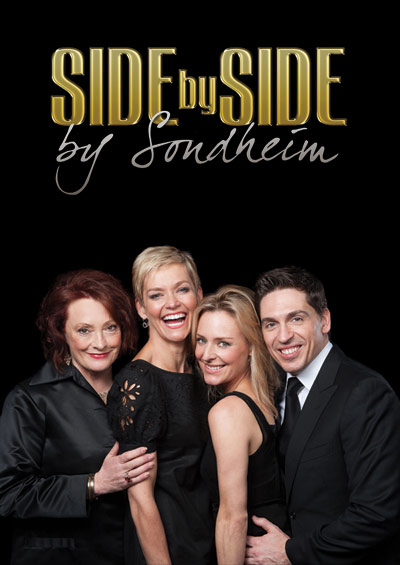 A celebration of the early work of Stephen Sondheim.
In April 2011, our production of Side By Side By Sondheim premiered in Sydney and toured Australia until November 2012.
Side By Side By Sondheim is a celebration of the early work of Stephen Sondheim in shows that revolutionised musical theatre.
The show was directed by Stuart Maunder, with musical direction by Craig Renshaw.
On Friday 20 April 2012, we presented a very special concert version of Side By Side By Sondheim at Theatre Royal, Sydney. This unique entertainment event featured some of Australia's most popular and acclaimed performers, headlined by the West End and Broadway star Ruthie Henshall, who made her Australian debut in the concert.
Starred (at different times)
Rachael Beck
Amelia Cormack
Margi de Ferranti
Michael Falzon
Enda Markey
Lucy Maunder
Jessica Rowe
Geraldine Turner
Concert Cast:
Rachael Beck, Mitchell Butel, Alinta Chidzey, Peter Cousens, Margi de Ferranti, Paula Duncan, Lucy Durack, Michael Falzon, Virginia Gay, Erin James, Ruthie Henshall, Melissa Langton, Ben Lewis, Stephen Mahy, Elise McCann, Enda Markey, Meow Meow, Amanda Muggleton, Lara Mulcahy, Judy Nunn, Anna O'Byrne, Andrew O'Keefe, Anita Plateris, Shaun Rennie, Jessica Rowe, Garry Scale, Lyn Shakespeare, Geraldine Turner, Bruce Venables, Belinda Wollaston.
Past Performances
Seymour Centre, Sydney – April 2011
Bathurst Memorial Entertainment Centre, Bathurst – March 2012
Theatre Royal – Gala Concert – Theatre Royal, Sydney – 20 April 2012
Canberra Theatre Centre – Canberra – September 2012
Geelong Performing Arts Centre – Geelong – November 2012
ENQUIRE ABOUT THIS SHOW
Photographs by Kurt Sneddon.