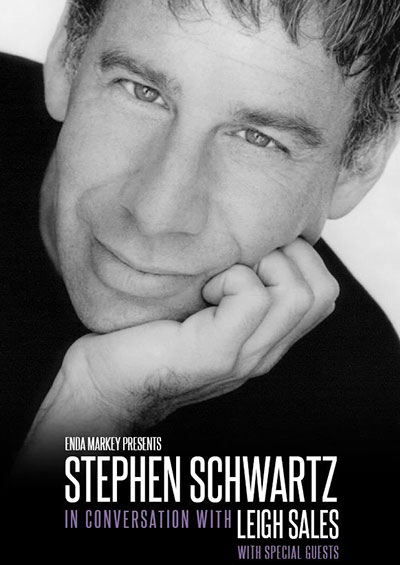 STEPHEN SCHWARTZ IN CONVERSATION WITH LEIGH SALES
Stephen Schwartz has won three Academy Awards, four Grammys and four Drama Desk Awards for his work on Broadway hits including Godspell, Pippin and Wicked as well as the Disney movies Pocahontas, The Hunchback of Notre Dame and Enchanted.
At midday on Saturday 13 February 2016, Stephen joined award-winning author and journalist Leigh Sales live on stage at Sydney's Theatre Royal for a fascinating conversation about his extraordinary career on Broadway and in Hollywood.
This event featured guest performances by Elise McCann, Michael McCorry Rose, Stephen Mahy and Christy Sullivan.
Stephen Schwartz in conversation with Leigh Sales
Theatre Royal, Sydney
Stephen Schwartz
Leigh Sales
with
Elise McCann
Michael McCorry Rose
Stephen Mahy
Christy Sullivan
Photographs by Robert Catto.